For several months now, Malteurop has been making an official commitment to its partners, for sustainable and responsible links, by unveiling its sustainable development approach.
To keep pace with the climatic, environmental and societal challenges it faces, Malteurop is fully committed to making its business a driving force for change in society, by constantly adapting to the changing needs and expectations of its brewing and distilling customers.
In order to respect the limited Earth's resources, while meeting product quality requirements, Malteurop is changing the packaging of its "craft" (*) product range
* craft brewery market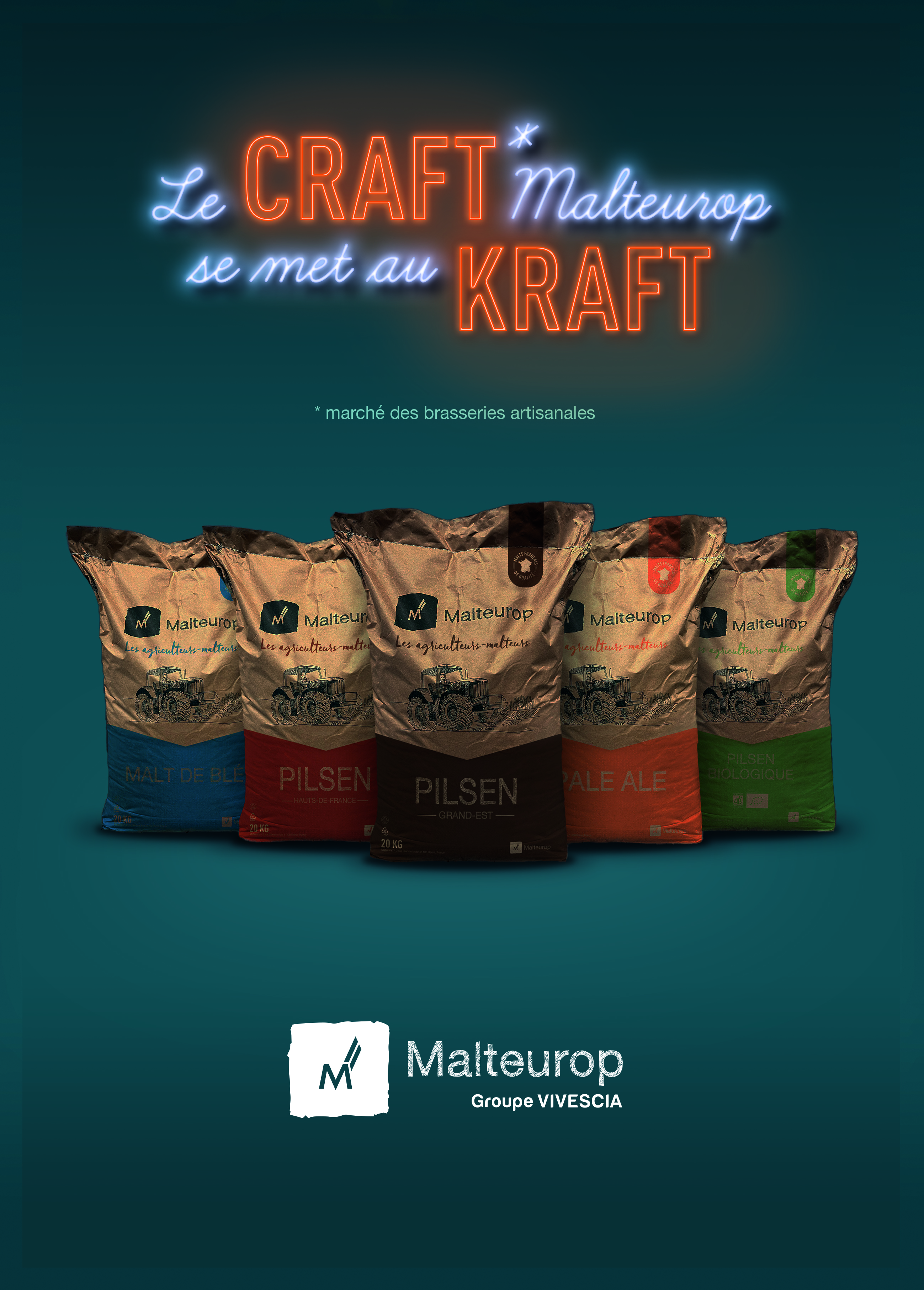 LINKS WITH MEN AND WOMEN
These new, lighter and more compact packs (20 kg):
Ensure greater working comfort in terms of skeletal risk prevention
Reinforce the safety culture anchored in our corporate values
Hold well in the hand when carried: kraft paper is a grippy material that won't slip.
LINKS WITH THE EARTH
These new 100% Kraft paper bags comply with Europe's most stringent recycling standard to date: "the Recycling Standard 95/5". As they contain less than 5% polyethylene, they can be recycled in the conventional paper industry.
These bags are certified for food contact.
The glue used in their manufacture is starch-based and the inks water-based, guaranteed solvent-free.
In terms of the future and sustainability, these new packaging solutions:
Reduce our impact on the Earth's limited natural resources and minimize our environmental footprint through increased recycling.
Reduce our carbon footprint through a short circuit approach = reduced transport costs / use of less fuel between point of manufacture, point of bagging and delivery to the brewer.
LINKS WITH INDUSTRIES AND REGIONS
Knowing the origin and traceability of products is a growing demand from our brewery customers. Our new packaging meets this demand: both content and container are 100% French.
All our barley is grown locally.
Malt production is handled by our malting plants located in the Grand-Est and in the Hauts-de-France region.
Our "PILSEN" malt is now clearly identified as "Hauts-de-France" or "Grand-Est", depending on its exact origin.
Bagging is carried out in the Marne by our parent company: VIVESCIA.
And our partner distributor for the craft market is based in Cernay-Les-Reims (51).
In line with our strong desire for traceability and to limit our carbon footprint by using local economic resources, we have also chosen to work with a printing partner based in the Marne. This printer shares our values of respect for the environment, and uses paper manufactured in Europe from sustainably managed forests (0% deforestation).
 
Change of material (= kraft paper):
Benefits the local economy (partners - from production to distribution - located in the Grand-Est region) 
Is guaranteed 100% French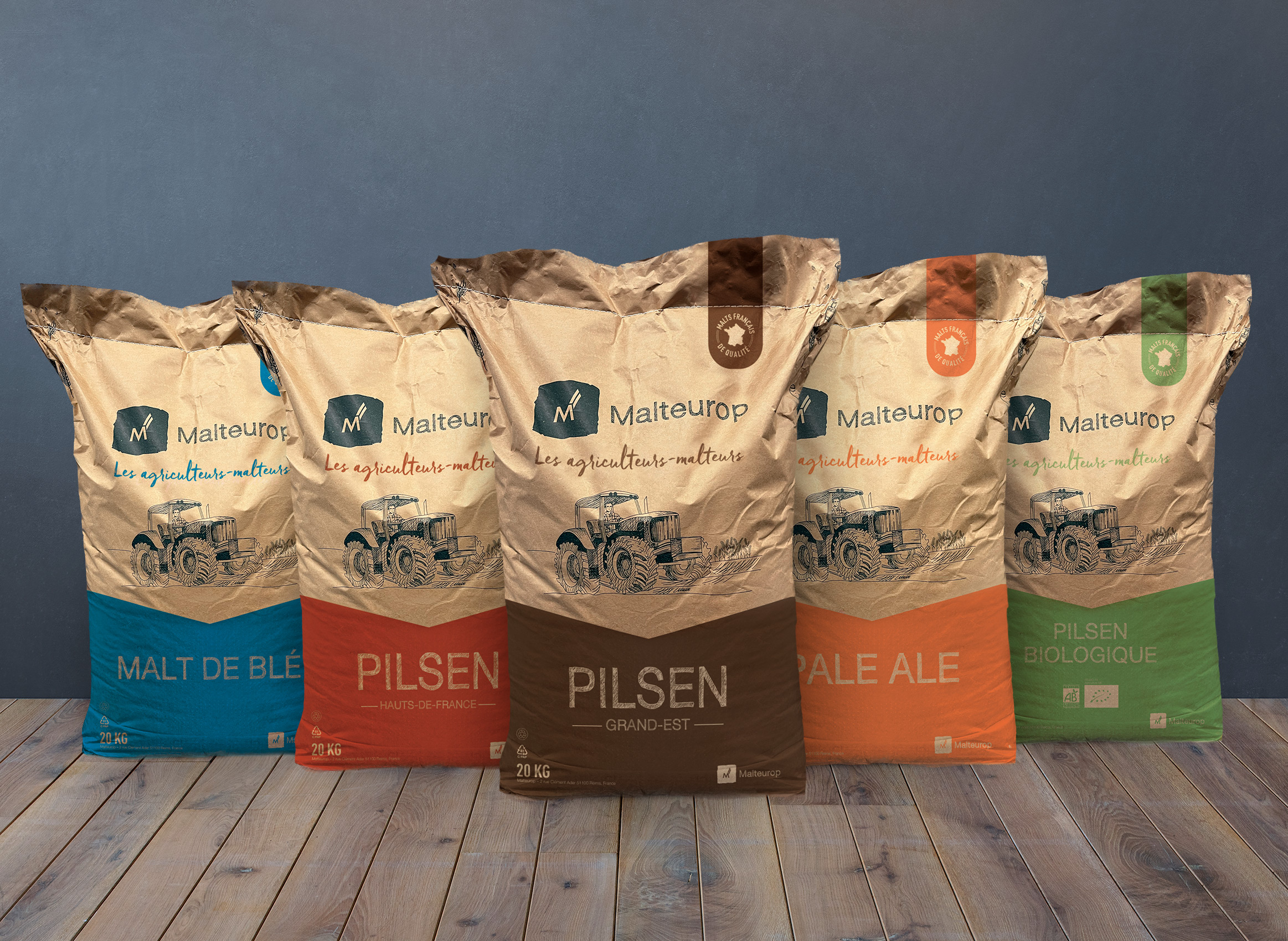 The colorful design of the new packaging range:
Facilitates traceability of malt
Clearly displays product origin (1 color = 1 type of malt)
Facilitates identification of malt type during storage at the brewer's.
So - from the production of its barley to the sale of its malt - Malteurop has opted for local, environmentally friendly, and recyclable products. 
A company that is both modern and rooted in its time, Malteurop aims to reassure its customers and partners of its social impact, now and in the future. Our commitment to sustainable development goes far beyond mere marketing arguments and proves the daily involvement of our teams in a virtuous economy from one end of the chain to the other.